Millenia.  Meursault is a village stuck in time. Its narrow crooked streets and pointed steeple perch on a hill above fields of weathered vineyards first planted by monks in 1098. The golden product of these fields has been known for centuries, and today it is as sought-after as any wine in the world. Remove the trucks parked along criss crossing vineyard tracks, and it could just as easily be 1616 as 2016.
The wines of Meursault are known for their rich, honeyed aromatics, and for a near-perfect balance between mouth coating texture and acidity. Our source for Meursault is the Domaine Boyer-Martenot, a small producer in the heart of the town whose star is rapidly rising. Wine writer Allen Meadows (Burghound) called their 2013 whites "simply terrific."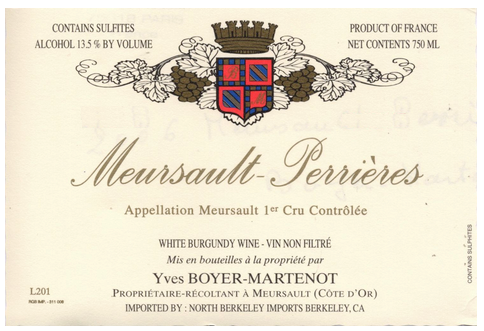 Almond and Honey.  Today we're offering Boyer's finest Meursault, a premier cru called "les Perrières." Though the town of Meursault has no Grand Crus, for years there has been talk of elevating "Les Perrières." The wine exemplifies the rich, opulent luxury of classic Meursault, and the 2013 vintage is no exception.
The 2013 Boyer Meursault 1er cru "Perrières" shows golden yellow fruit, with honey and almond in the nose. The mouth is full, concentrated, and impossibly long, with a mouthcoating lemon-peach richness balanced by bright minerality and white pepper. This is Meursault as it should be — rich and extravagant. It's a wine for a Sunday afternoon meal — chicken in crème fraiche would be our choice. Decant for a half hour while you set the table, and you won't care a bit whether it becomes a Grand Cru.
________________________

BOYER-MARTENOT Meursault 1er cru "les Perrières" 2013
S. Tanzer Retail: $119
Ansonia Retail: $104
offer price: $89/bot


_
AVAILABLE IN  3-   6-  AND 12-  BOTTLE LOTS
_
or call Tom: (617) 249-3657
_
_
_____________________________
Sign up to receive these posts in your inbox:

_
_____________________________