A dusting of snow this morning reminds us that winter is not far off. In the colder months our palates turn towards richer wines, particularly those from the Southern Rhône valley, where the warm summer sun is baked into every grape. And the undisputed king of the Southern Rhône Valley is Châteauneuf-du-Pape.
The Southern Rhône produces plenty of excellent wine outside Châteauneuf — we've written recently about great values from Séguret and Gigondas — but last summer we discovered a Châteauneuf producer with unusually good pricing. Most Châteauneuf cuvées sell for over $50/bottle, and those from the famous names reach above $100. Christophe Mestre's can be had for less than $30.
If you're scrambling to find a crowd-pleasing wintery red for Thanksgiving, consider this one. We've yet to meet someone who doesn't like this wine. Orders placed today can reach most northeast and mid-Atlantic addresses by Wednesday.
Christophe Mestre is a young winemaker from an old Chateauneuf family, whose talent and terroir have already begun to bring him acclaim. We opened his 2013 Châteauneuf rouge at our Thanksgiving tasting in Newton yesterday, and those who tasted before seeing the price were universally surprised — this is delicious, classic Châteauneuf at an astonishingly good price.
The nose is explosive, with a wide range of notes from pan drippings and sage to strawberry jam, wild raspberry, and lavender. The mouth is smooth and soft and rich, with a dark red complexion and sun-baked, silky tannins. Vinous's Josh Raynolds awarded this wine 90 points, pointing out its "very good focus," highlighting notes of "cherry compote," and "anise."
This opens beautifully over a half hour in a glass or decanter. Depending on whom you ask, this may be a long, chilly winter — we'll certainly be glad to have some of this in our cellar.
________________________

MESTRE Châteauneuf-du-Pape 2013
Ansonia Retail: $35
case, half-case: $29/bot


_
AVAILABLE IN     6-   AND  12-  BOTTLE LOTS
_
Email Tom to place an order.
or call Tom: (617) 249-3657
_
_
_____________________________
Sign up to receive these posts in your inbox:

_
_____________________________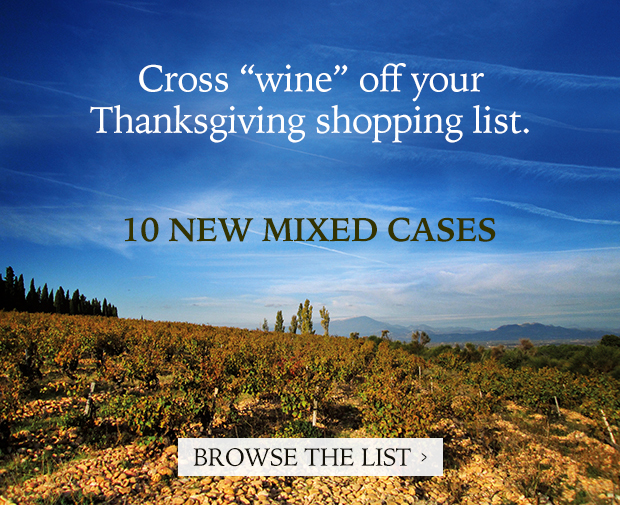 _____________________________
Terms of sale. Ansonia Wines MA sells wine to individual consumers who are 21 or more years of age, for personal consumption and not for resale.  All sales are completed and title passes to purchasers in Massachusetts.  Ansonia Wines MA arranges for shipping on behalf of its customers upon request and where applicable laws permit.