Off the beaten track.  Most of the red Burgundy we import comes from the Côte d'Or. Stretching thirty miles from Dijon to Santenay, the Côte d'Or is home to nearly all of Burgundy's famous vineyards. But continue south past Santenay and there's a whole other world of Burgundy to discover — one with quieter names, simpler wines, and far more reasonable prices.
Just ten miles south of the end of the Côte d'Or lies the town of Givry. The town had a brief run of popularity in the 16th century, when France's King Henry IV declared it his favorite wine. Since then Givry has settled into its more modest existence, producing humble, honest, and delicious red Burgundies.
The wines of Givry trade elegance for energy, more comfortable in a Parisian bistro than a three-star restaurant. And today's offering perfectly embodies the vibrant, rugged side of Pinot Noir.
Everyday Red. The Desvignes Givry "Meix au Roy" is a Burgundy disguised as a Côtes du Rhône. There's more rusticity and juiciness than in Burgundy from further north, but the same pure, delightful Pinot Noir fruit and deliciously accessible mouthfeel. The nose is dark and briary, with stewed cherries, roses, and faint toast. The mouth is smooth and ripe, with low tannin, great freshness, raspberries and a hint of fig.
This is an excellent choice for Burgundy fans looking for a house red and a break on the bill. The 2014 vintage's ripe tannins make this easily accessible young, particularly with a steak frites — it's even more enjoyable than six months ago when it arrived.
There's a time and a place for the finest Pinot Noirs of Burgundy — but some nights call for Givry over Gevrey.
________________________

DESVIGNES Givry 2014
Ansonia Retail: $26
6+ bottle price : $22/bot

_
AVAILABLE IN    6-   AND  12-   BOTTLE LOTS
Email Tom to place an order.
or call Tom: (617) 249-3657
_
_
_____________________________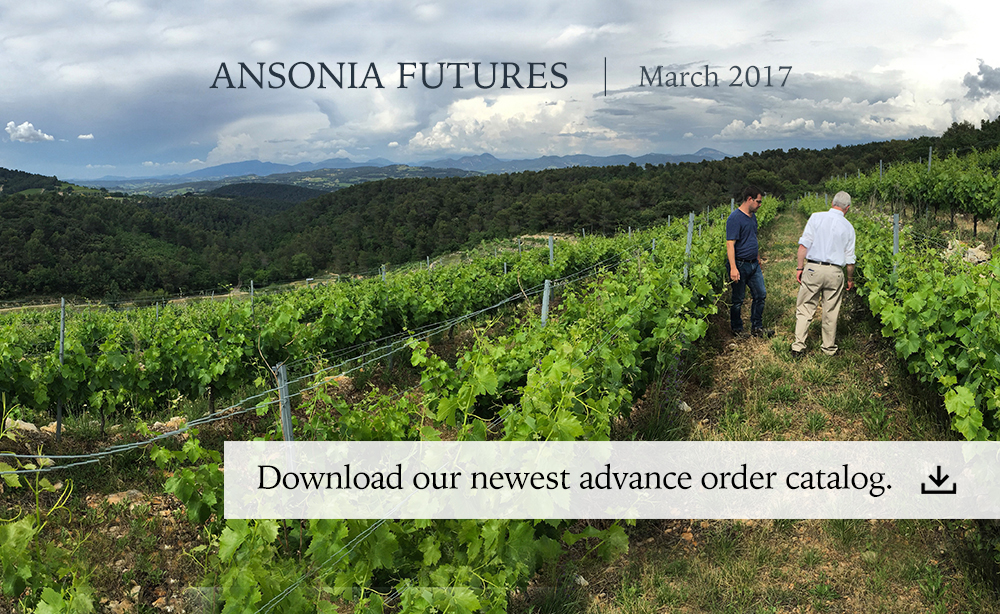 Sign up to receive these posts in your inbox:

_.
_____________________________
Terms of sale. Ansonia Wines MA sells wine to individual consumers who are 21 or more years of age, for personal consumption and not for resale.  All sales are completed and title passes to purchasers in Massachusetts.  Ansonia Wines MA arranges for shipping on behalf of its customers upon request and where applicable laws permit.