Grenache is one of the most important grape varietals in France. It plays a leading role in the finest wines of the Southern Rhône and Languedoc, and usually joins syrah, mourvèdre or carignan in a blend. Known for its pure cherry fruit and potential for complexity, it's sometimes called the Pinot Noir of the South.
Many of our favorite southern blends are based on grenache, and a few are examples of Grenache in pure, unblended form. We've collected four of our favorite grenache based wines — two are 100% and two are traditional blends. Whether you're looking to hone your varietal skills or just looking for four refreshing reds for spring, here's a mixed case for you will enjoy.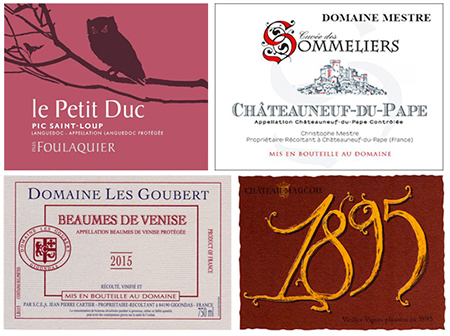 Maucoil 1895 14
Made from very old (122 years) vines just outside Châteauneuf-du-Pape, this pure Grenache cuvée is exceptionally dense and smooth, and much richer than usual for a Côtes du Rhône Villages. Look for baked cherries and cinnamon.
Foulaquier Petit Duc 14
This 100% Grenache cuvée comes from the Mas Foulaquier in the Languedoc, masters of clean biodynamic winemaking. Here Grenache takes an even deeper tone, adding notes of cassis, bay leaf, lavender and honey.
Goubert Beaumes de Venise 15
This majority grenache wine uses syrah and cinsault to round out the blend. It's rich and meaty, and a great way to experience what the other two grapes add. Look for smooth tannins, rich fruit, plum jam, and rosemary.
Mestre Châteauneuf-du-Pape 13
This classic cuvée is grenache-based, with syrah and mourvèdre joining. This shows Grenache in its finest role — Châteauneuf du Pape — and displays the grape's potential for complexity and depth. Look for strawberry jam, anise, and savory spices.
GRENACHE SAMPLER
3x   Maucoil Cuvée 1895 14:   $30
3x   Foulaquier Petit Duc 14:   $34
3x   Goubert Beaumes-de-Venise red 15:   $24
3x   Mestre Châteauneuf-du-Pape 13:   $35
Ansonia Retail: $369
offer price: $295/case

free East Coast shipping    |    save $47
Sign up to receive these posts in your inbox:

Terms of sale. Ansonia Wines MA sells wine to individual consumers who are 21 or more years of age, for personal consumption and not for resale. All sales are completed and title passes to purchasers in Massachusetts.  Ansonia Wines MA arranges for shipping on behalf of its customers upon request and where applicable laws permit.