The Domaine Jean-Noël Gagnard is one of the best known and most respected names in Chassange-Montrachet. British Master of Wine Serena Sutcliffe credited Jean-Noël with "opening her eyes to white Burgundy," and today his daughter Caroline continues to produce wines at the same superlative level. Their wines are pure, classy, and elegant.
Most of their cuvées are special occasion wines — their extraordinary Grand Cru Batard-Montrachet retails at over $400 per bottle. But in the last decade Caroline has begun to make a few cuvées with friendlier price tags and a more approachable style. The finest of these is her Hautes-Côtes de Beaune "Sous Eguisons."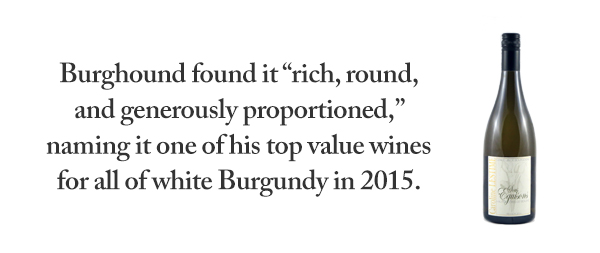 With Sous Eguisons, Caroline has combined her father's rich winemaking tradition with new energy and passion, growing grapes in an excellent location and vinifying them in the same way she makes the family's Chassagne. Because Caroline views Sous Eguisons as a wine to drink in the years soon after the harvest, she bottles it under screwcap instead of corks.
The 2015 is the richest vintage we've seen from Sous Eguisons, and the closest to a Chassagne-Montrachet. White flowers and meyer lemon dominate the nose, along with notes of lime rind and chalk. The mouth shows some of the Chassagne richness with which the Gagnard name is synonymous, and the finish is smooth and long.
Burghound found it "rich, round, and generously proportioned," calling it "really quite good" and naming it one of his top value wines for all of white Burgundy in 2015. Made alongside some of the most expensive and sought-after white Burgundy in the world, Sous Eguisons requires neither the patience nor the investment — it's an elegant, masterful white Burgundy for today.
____________________________
Gagnard Sous Eguisons 2015
Ansonia Retail: $40
3+ bottle price : $35/bot


FREE EAST COAST SHIPPING ON ANY 12 BOTTLES