The Côte d'Or is home to nearly all of Burgundy's most famous wines. As monks learned centuries ago, the region's combination of soil, exposition, slope, and weather makes it a near-perfect place to grow Pinot Noir and Chardonnay.
But it's a mistake to ignore the rest of Burgundy. It may be more difficult to produce great wines outside the Côte d'Or, but with a skilled winemaker and a great vintage, the results can be excellent. And such is the case with the just-arrived 2015 Givrys from the Domaine Desvignes. In a normal year these are pleasant, hearty, well made red Burgundies with delicious fruit and lots of character. But in 2015, they're at a whole new level.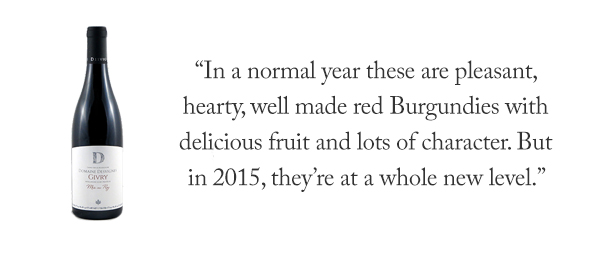 Gautier Desvignes is a 20-something winemaker who took over his family's domaine a few years ago. He has brought new energy and modern techniques to the winemaking, and the results have been nothing short of exceptional. Gautier has managed to transform a humble, traditional family winery into one making some of the most popular wines in our portfolio.
Just as his new ideas were taking effect, Mother Nature presented him with 2015, a near perfect vintage. And Gautier took full advantage, producing red Burgundies on a level seldom seen outside the Côte d'Or.
Today we're releasing the Desvignes Givry "Meix au Roy" 2015, a village-level Givry that drinks far above its $25 price tag. The nose is ripe and beautifully textured, with notes of cherry jam, violets, stones, and baking spices. The mouth is fresh and young but not at all harsh, with a rich, juicy attack followed by a smooth, perfectly balanced, mouthfeel that's far more refined than most Gviry.
The Desvignes wines age well, and particularly in 2015 there's no rush to drink them. But judging by the speed that yesterday's bottle disappeared at our warehouse tasting, you won't want to keep your hands off them for long.
____________________________
Desvignes Givry 2015
Ansonia Retail: $30
6+ bottle price : $25/bot


FREE EAST COAST SHIPPING ON ANY 12 BOTTLES